My Giveaway for $100 of products from my store: InspiredByFelicity.com ends tonight! The winner will be posted tomorrow.
A couple people sent me messages last week asking where the punch fountain from
Felicity's Vintage Inspired Valentine's Party / Brunch
came from - It was actually borrowed from my Mother-In-Law who bought it about 6 years ago from QVC. It is called a "Rival Beverage Fountain" it is all plastic and is awesome! It is lightweight, easy to set up and take down and clean- it lights up from the bottom and comes with a handle and 12 cups.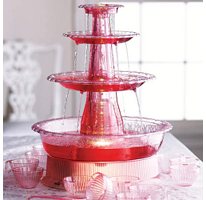 The only place I can find the exact same one is from Sams Club. It's listed on their website but can't be purchased online, you have to check your local store for pricing and availability.
But I went on Amazon and found this one that is really similiar and it's only $29 - click the pic to go to the listing.
I would highly recommend getting either of these if you're going to have any parties with little girls - the girls at our party went crazy over it and since everything is plastic you don't have to worry about them breaking any of the cups or ladle or anything.
Also, check out our new vintage inspired jeweled headbands.
You can still use discount code "Welcome2012" to get 20% OFF and a Free Hair Clip with your order.